1956 Cadillac Eldorado Biarritz Convertible.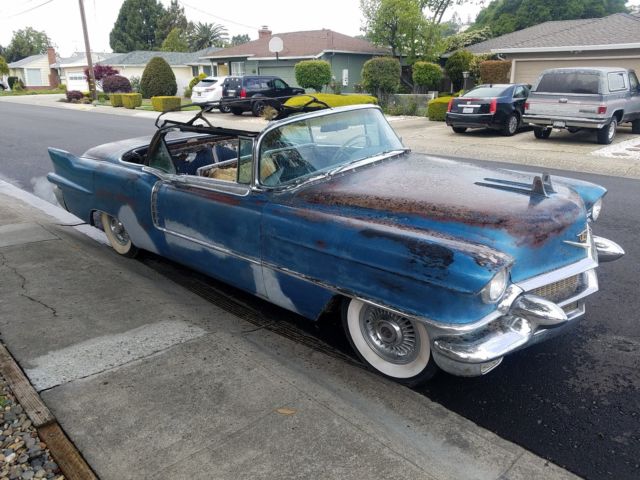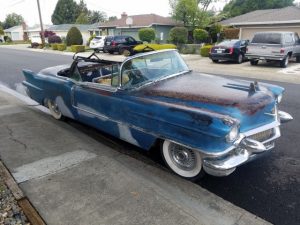 Well, after over a decade of both lusting over and searching for – the day and the dream have come true.
The latest purchase to the fleet is here, a rare 1956 Cadillac Eldorado Biarritz Convertible all the way from San Francisco!
The bodywork isvery good, the engine,gearbox and drivetrain are a;; excellent, interior is…. there in spirit.
Full and sympathic restoration will commence shortly with some help and parts from the very talented Mike Sargeant over at
Tornado Automotive.
These 1956 Cadillac Convertibles are very rare anyway – but the "Eldorado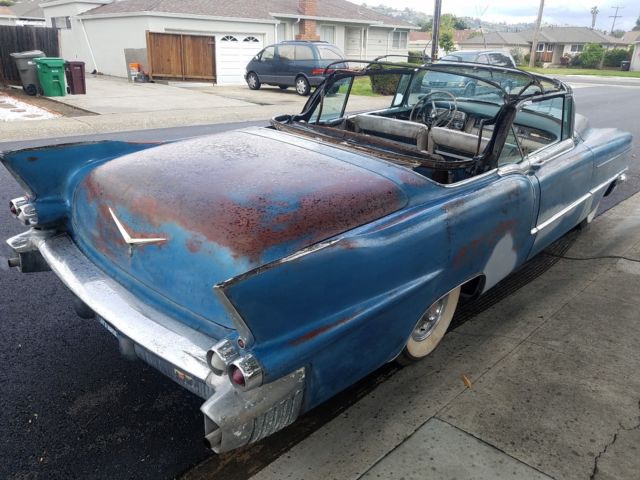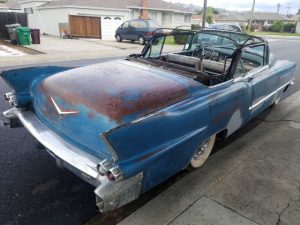 Biaritz" is the rarest of the rare. Only 2250 built, 2200 sold and just under 100 remaining world wide. Ours is the only one road-ready in the country.
The nameplate Eldorado is a contraction of two Spanish words that translate as
"the gilded (i.e., golden) one" — and also refers to El Dorado, the mythical South American "Lost City of Gold" that fascinated Spanish explorers.[3]
Chosen in an internal competition for a 1952 concept vehicle celebrating the company's golden anniversary, the name Eldorado was proposed by Mary-Ann Marini (née Zukosky), a secretary in Cadillac's merchandising department[4] — and was subsequently adopted for a limited-edition convertible for model year 1953.
Palm Springs Life magazine incorrectly attributes the name to the Eldorado Country Club in Indian Wells, California, a favorite resort of General Motors executives in the Coachella Valley — though the resort opened in 1957, five years after Cadillac's own naming competition.[citation needed]
Cadillac began using the nameplates "Eldorado Seville" and "Eldorado Biarritz" to distinguish between the hardtop and convertible models (respectively) while both were offered, from 1956 through 1960 inclusively. The "Seville" name was dropped when the hardtop was initially discontinued (1961), but the Biarritz name continued through 1964. Beginning 1965 the Eldorado became the 'Fleetwood Eldorado'. 'Biarritz' returned as an up level trim package for the Eldorado for 1976.
For 1956, a two-door hardtop coupé version appeared, called the Eldorado Seville at which point the convertible was named the "Eldorado Biarritz". An Eldorado script finally appeared with fender crest on the car which was further distinguished by twin hood ornaments. An extra feature on the Eldorado convertible was a ribbed chrome saddle molding extending from the windshield to the rear window pillar along the beltline. With the addition of the Seville, sales rose yet again to 6,050 of which 2,250 were Sevilles. Eldorados accounted for just 4% of all Cadillacs sold.
She's big and beautiful and wants a second chance in life – and that's what she's going to get. She will be repainted in the famous Cadillac Pink known as "Mountain Laurel". check back here for post updates of an example of the colour choice.
Updates to come shortly. Appreciate any thoughts and opinions if you want to contact us using the Contact Us form on this page.